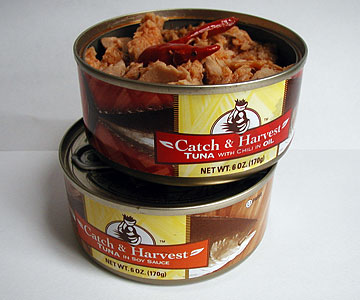 Should you open a can of tuna and find a couple of whole chili peppers inside, best viagra pharmacy do not be alarmed. Catch & Harvest, new to the Hawaii market this month, offers tunas pre-seasoned with chilies, prostate soy sauce, or lemongrass, lime and ginger.
The tuna is processed in Vietnam and distributed locally by Hapa Haoli, USA, a partnership of Honolulu resident, Kitty Wo and Louvette Fowler [of Rancho Santa Fe], whose husband Richard heads a tuna canning operation in Asia.
Wo says the seasoned tunas make it that much easier to prepare tuna salads or other recipes — and the soy-sauce version is good just over hot rice.
Samples will be offered at Foodland stores this week: 3 to 6 p.m. today at Beretania, Kaneohe and Pearl City; 3 to 6 p.m. tomorrow at Pearl City and Ewa Beach; 3 to 6 p.m. Friday at Market City and Mililani; 11 a.m. to 2 p.m. Saturday at Market City, Beretania, Ewa Beach and Kailua; and 3 to 6 p.m. Saturday at Hawaii Kai.
The tuna is on sale at Foodland for $1.50 per 6-ounce can.
Source: Star Bulletin
http://archives.starbulletin.com/2007/01/24/features/story03.html